Need a hand getting ready for Christmas nights out?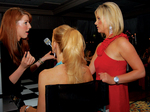 Make-up artist Ann Hutton who visits University Late Night Pharmacy this week speaking to Karen Koster on TV3\'s Expose recently.
From the Galway Advertiser Newspaper:
Celebrity make up artist comes to town
An average woman spends more than an hour getting ready for a routine night out, with eight per cent taking more than two hours to get ready, a British survey has revealed.
The getting ready procedure generally involves 15 minutes in the bath or shower, 21 minutes doing her hair, 17 minutes trying on outfits and 12 minutes applying make-up. The survey also found that merely planning a night out will have involved four phone calls totalling around 55 minutes.
According to the survey by Table Table, a restaurant and pub website, the average night out is likely to involve four or five friends who go out at about 8.05pm. The study found that once out and about, women will spend a further 29 minutes fixing their hair and make-up in the lavatory of the venue. However when it comes to big occasions like Christmas parties the time spent getting ready can be significantly longer.
So if you are going to spend as much time as that then you better make sure that the time is spent productively and you are getting the best possible results. Galway women will have the opportunity to have their Christmas party make-up look carried out by a high profile television and film make-up expert this week when the well-known Ann Hutton visits the new Lancome department at University Late Night Pharmacy.
"We are delighted to be able to offer our customers the opportunity to have a complimentary personal make-over from Ann," said Dr Audrey Kinahan of University Late Night Pharmacy. "Ann will also be assisting our own team of make-up artists in providing one-on-one lessons on how you can create the perfect Christmas party make-up look yourself."
Customers will also be able to avail of some amazing promotions with free gifts with purchase available on Lancome, Clarins and Armani or simply call in to sample the wonderful range of fragrance from the Chanel counter.
This promotional event has now finished. For details of our next event contact University Late Night Pharmacy, Galway
If you would like to be notified by email or text about our special offers and promotions please click here
http://www.advertiser.ie/galway
Last update: 15/05/2013 10:17 • Previous update: 30/11/-0001 00:00